By Ana Gerber, Vice President Global Research, AeroStrata LLC

AeroStrata is the leading Research and Consulting firm specializing in the global Air Cargo Industry. Our clients include Airlines, Shippers, Freight Forwarders, Airports, and Financial Institutions. Our research highlights global market trends and developments. Our business intelligence solutions provide speedy and thorough data analysis to improve our clients' decision-making process and increase their profitability.

In this issue we focus on changes in the airfreight market for the three-month period November 2008 to January 2009, as compared to the same months from the year before. While year over year tonnage for the months leading up to this period provided some relative stability, November 2008 to January 2009 saw a record-breaking decline in tonnage.

Export volume has decreased at an exceptionally rapid rate, catching the entire industry by surprise. Even the previously strong export market to Latin America saw a rapid decline in volume-although the reduction in capacity occurred later.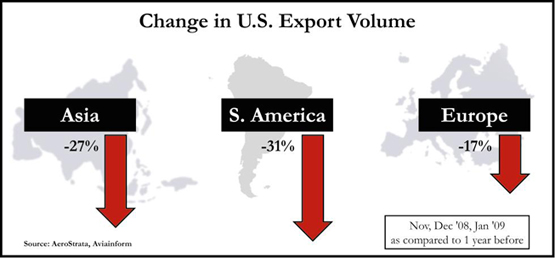 The reason for this drop is a combination of the reduction in the number of shipments and their respective shipment size. While the number of shipments decreased only modestly, the average weight per shipment dropped at a substantially higher rate, proving to be the major contributor to the overall volume drop.

The effect of this downturn is a massive reduction of freighter capacity in all parts of the world. However, it is anticipated that the reduction in capacity still does not match the significant overall drop in volume during 2009.

U.S. airfreight import volume continued to decline even sharper for this period as compared to the months leading up to it. Consider, for example, the imports from South Korea and Hong Kong, two significant trading partners of the U.S. in 2008.

Import tonnage from South Korea shrank by 27% for this period compared to the previous year. Import tonnage from Hong Kong shrank by 14%.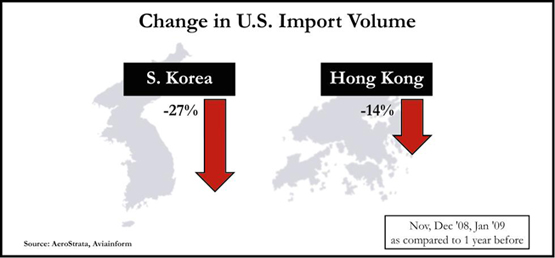 The only positive development during this period was the continuous decrease of fuel prices, which led to a further reduction of fuel surcharge levels.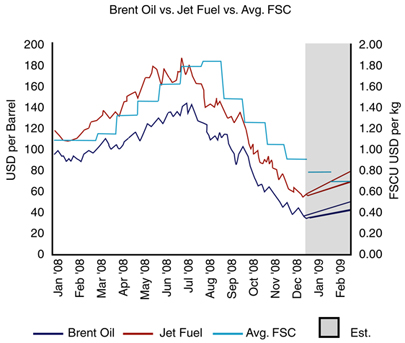 Examining the rate levels (excluding the surcharges) for the same period, we see that the average export rates from the USA to Asia, Europe, and Latin America actually rose 10%, 6% and 18% respectively, compared to the same period of the previous year. However, the average inbound rates out of Asia fell between 10% and 15% due to a non-existent peak season.

Leading economists continue to adjust their forecast downwards and do not predict any significant recovery in 2009. It is entirely possible that continuing deterioration in business activities will out pace all current volume estimates for 2009.