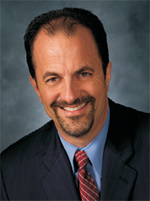 Michael A. Massetti joined AMD as Vice President, Supply Chain in December, 2008. Michael is responsible for global supply planning, inventory management and control, order management, fulfillment, and the supply chain management infrastructure program.

Michael came to AMD from Tekelec where he was Vice President, Global Procurement & Quality since August 2006. In that role, Michael led a centralized global team covering all spend categories and managed all contract manufacturing, OEM hardware, and software. He drove the transformation of procurement from transactional-based to an advanced sourcing function – achieving double digit cost reduction, delivery performance, and quality improvements, while reducing cost of poor quality by >50%.

Michael came to Tekelec from Lucent where he was Senior Director, Supplier Management - Platform Strategy & Sourcing. In this role, he managed over $1.5B of hardware spend, drove $100M per year in cost reduction programs, and directed sourcing strategy development for Lucent's embedded technologies. He joined Lucent in March 2002.

Michael came to Lucent from Dell where he was Director of Program Management for the OptiPlex product line. Michael led the introduction of 10 desktop platforms for a product unit that contributed over 55% of Dell's revenue.

Michael began his career in 1979 at IBM's Microelectronics Division where he started in mixed signal integrated circuit development. He built IBM's first field applications organization in 1993 as IBM entered the merchant semiconductor market. Michael's final position with IBM was Senior Program Manager for the PowerPC product line.

Michael received his BSEE from The University of Notre Dame in 1979. He received his MSEE (1984) and MBA (1987) from the University of Vermont. Michael completed NTL's Mastering Executive Leadership, GAP leadership training at Lucent, Dell's Executive Leadership Program, and Strategic Marketing at the University of Michigan. Michael has been a guest lecturer at the University of Texas (Program Management) and Rutgers University (Supplier Relationship Management) and has spoken at several conferences on supply chain topics.

Michael received the 2009 Top 25 Supply Chain Executives Award by the Global Supply Chain Leaders Group.



How important is Supply Chain Management to AMD's overall business strategy?



AMD serves a global marketplace including computer and electronic gaming manufacturers, distributors, and retail channel partners. Each of them may have unique requirements on the supply chain, but all require high levels of service. Excellence in SCM is essential to AMD's long-term success - the ability to consistently and reliably deliver our products to customers is required for AMD to continue winning new market opportunities.



What primary areas of focus (or key initiatives) is AMD looking at for Supply Chain Management?



AMD continues on our strategic transformation of the supply chain to higher levels of customer service, reduced levels of inventory, more flexible manufacturing, and globalization. Developing a competitive edge with a world-class supply chain is essential to continue driving customer satisfaction.



How has outsourcing enabled AMD to be successful with these initiatives?



Earlier in 2009, AMD completed a strategic transaction which resulted in the creation of a global semiconductor foundry for microprocessor wafer fabrication, GLOBALFOUNDRIES. This move was a significant step in transforming AMD's business to create a more agile operating model. With GLOBALFOUNDRIES, AMD gains a leading-edge microprocessor foundry partner and expands our manufacturing capabilities by scaling the size, capability and technology development of the manufacturing operations we are able to tap into. We also partner with foundry partners TSMC, Chartered and UMC. Our Assembly, Test, Mark and Pack operations are primarily done in-house. The balance of internal and external manufacturing helps reduce supply risk and increases overall supply chain flexibility.



How is AMD addressing the market's increasing focus on 'green' supply chains and reducing a company's carbon footprint?



AMD in August published its ninth annual Global Climate Protection Plan, which presents our strategy, goals, and commitment to continually reduce greenhouse gas emissions and contribute to global climate protection efforts. This effort spans our products, operations, and ollaborative initiatives with our industry, suppliers, customers, government partners, and employees. Our strategy, quite simply, is to make energy conscious, smart choices in our operations and to leverage the collaborative bond with our customer and technology partners, positively impacting our products and supply chain. After achieving previously set climate protection goals, we set new goals in our recently released plan and are committed to continuous improvement. The interdependency of the impact of climate on supply chain is expected to present both challenges to and opportunities for progress for years to come.



What do you think the key Supply Chain Management priority for the coming 2-3 years is for AMD?



AMD must continue to drive supply chain improvements to ensure excellent delivery performance, responsiveness and agility, and, most of all, total customer satisfaction. We want customers to know they can rely on AMD to work with our supply chain partners to develop, deliver, and support worldclass technology solutions.



What do you think the key Supply Chain Management priority for the coming 5-10 years is for AMD?



AMD's long-term strategies and focus are similar to our priorities for the shorter horizon: cost competitiveness, responsiveness and flexibility, supply risk reduction, and agility. As our customers' markets change and evolve, we need to have a supply chain that anticipates and supports the dynamics in the markets.



What are the biggest INTERNAL challenges for manufacturers to achieve supply chain excellence?



I like to say that supply chains are the most visible when they are terribly unpopular. It is easy for a supply chain to be noticed when deliveries are poor, when costs are out of control, when there is little flexibility, and when it is not responsive. Establishing and maintaining organizational
credibility through excellent performance on all of the attributes we discussed earlier are critical. Our internal stakeholders cannot worry that the supply chain will not be able to support the customers once they decide to buy, or buy more, from AMD.



What are the biggest EXTERNAL challenges in achieving supply chain excellence?



Similar to the internal focus, it is absolutely critical that customers have total confidence in their decision to buy from AMD. We run a very high volume supply chain that produces tens of millions of parts a year. To be considered excellent means that we have highly integrated processes with all of our suppliers and manufacturing partners. This includes forecasting, inventory management and visibility, high quality execution, and a focus on customer service.



What are the supply chain challenges to which AMD should be paying more attention?



AMD is focusing on supply chain priorities as mentioned above.



Who is responsible for planning your company's business continuity when facing natural disasters, major disruptions or other geopolitical issues?



AMD's global supply management team, the supply chain planning team, and corporate financial planning all work to ensure we follow our business continuity plan during supply disruptions.



What are the main skills and personal attributes that have helped you reach your current position?



Supply chain management is a very broad field. It encompasses managing suppliers, logistics, planning, total cost of management, systems and tools, inventory planning and management, and considerable interaction with people, internal and external to the company. The breadth of my cross-functional experience first enabled me to enter SCM. Since then, my technical skills, business experience, communications, and interpersonal skills have allowed me to succeed.



How do you grade AMD's supply chain overall performance in client satisfaction?



The best measure of client satisfaction, of course, is our customer's repeated business with AMD. Additionally, AMD invites customer feedback quarterly, and we have received very good feedback on many of the elements we discussed earlier. I believe we still need to make progress to meet our internal expectations, which we hope exceed our customers' needs. The recent market collapse and up-turn has been a challenge and we are working closely with our customers to respond as their demands increase again.



During this economic downturn, how do you keep your entire organization motivated?



The one thing about being in supply chain is that you can clearly see your impact on the business. We set aggressive performance and improvement targets to start 2009 and have made solid progress through the year. With our key performance indicators and overall supply chain metrics, we've shown the team the progress they've made. It's all about instilling confidence in the team, keeping the challenges real and achievable, and stopping to appreciate the accomplishments along the way and thanking them for the efforts.



Who do you rely on for advice?



I have worked hard to establish and nurture a network of former colleagues and professional associates through professional networking venues like LinkedIn. I share questions and challenges with the people who I have worked closely with and whose opinions and experience I value. Of course, my boss, John Docherty, is the visionary behind AMD's supply chain and operations strategy, and he has plenty of advice for me.



What have you learned as Vice President, Supply Chain that has surprised you or changed the way you do business?



Probably the biggest positive surprise for me is how committed and dedicated my colleagues at AMD are. I'm proud to be part of a team that understands the challenges and comes to work each and every day driving to make us better. I have focused heavily this year on supporting the team. I am very pleased with how we've stuck together through the market turmoil.



Turbulent times should be the best time to implement changes. However, companies tend to paralyze due to uncertainty in the market or their human capital. What is your advice to maximize the opportunities to implement changes during tough times?



You must have a long-term strategy and plans, constantly review those, but most importantly, do not stray too far from the vision of the Company. Albeit, you may have to make course corrections along the way like slowing down SC technology investments, changing priorities and schedules, moving faster to out-source or in-source, and so on. To me, one of the most important elements is the focus on the people in the organization and ensure they fully comprehend the plan and the changes that you are driving. They need to see, hear, and feel the commitment of the SC leaders to help deal with turbulence and know they are on a path to success.